- Robert Bradley's Blackwater Surprise -
| | |
| --- | --- |
| | --- |
| | "We want to get people to feel good" - Robert |
It's this simple:
It is tough to go a few days without
listening to my Robert Bradley CD - Cris
"...edgy Muddy Waters singing from the gut as he leads the Black Crowes...nearly Pentecostal"

- CMJ Jackpot -

Click Here For The Official Blackwater Surprise Page.
Album track "Trouble Brother" appeared in the Harrison Ford / Brad Pitt movie "The Devil's Own".
"California" video on MTV, call "1-800-DIAL MTV" to request.
Govenor

I wish the Govenor ya'all,
would just leave, the poor man alone
he's screwing' up my home
You know my taxes are gettin' too high...

Bellybone

I got a woman who's got her own job
Up in the mornin' in the evening, still workin hard
I got a woman, I'll tell you no lie
Gonna love that woman til the day I die...

The RCA Record Label With BMG
Random reviews
---
From: WRNR Artist Profile Archives (http://www.wrnr.com)
Robert Bradley's Blackwater Surprise
Robert Bradley's story is one of the most unique to emerge from the rich musical heritage of The Motor City. For more than half of his 46 years, the blind singer-songwriter has made a living "busking" ...playing on the streets of Detroit, mesmerizing passers-by with his soulful sound, guitar case open for contributions. Utilizing Greyhound's "blind passengers ride free" program, Robert would foray to other parts of the country, playing for anyone whoo would listen, spreading the gospel of his wonderful and original music.
Robert Bradley knew that all he needed was a guitar, his songs, and his wits to get by. He became a fixture on the streets of Detroit, making up songs on the spot for whoever passed by...and making not too shabby an income for his efforts. He wasn't on the streets because he was hungry, Bradley says. He was there because he's a player and wanted to sing.
Blackwater Surprise came together after Robert was booted from one of his regular spots and began playing on the sidewalk outside of the studio where brother Andrew and Michael Nehra on bass guitar and drummer Jeff Fowlkes were working. They heard Robert through an open window and decided to invite him up for a little jam session. The collaboration clicked. right from the start it was, "obvious, natural and effortless," says Andrew. Blackwater Surprise also includes keyboardist Jimmy Bones. The band has now been together for three years.
---
From: Pocket Band - Robert Bradley's Blackwater Surprise
(Original "http://www.umagazine.com/u/rocks/music/octpocketband.html" gone)
RCA Records
Freshness, funk and familiarity define the sounds flowing from unique new musical partners Robert Bradley and members of the former Detroit band Second Self.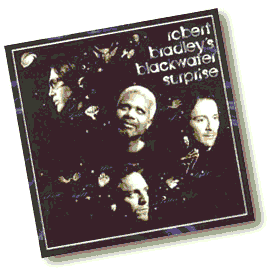 The unlikely fivesome's story is as rare as its sound. Band members met Bradley three years ago when vendors kicked him out of an outdoor market for drawing too big of a crowd. Bradley, who had spent nearly two decades performing self-written grooves on the streets, relocated his one-man show to the sidewalk outside of Second Self's window.

"We were awestruck by his voice, so we ran down the stairwell," says guitarist Michael Nehra.

The initial demo became the band's first single, "California," a striking, smooth-but-not-sappy acoustic meditation. The album features sidewalk-stomping originals and impromptu studio jams.

They recorded with vintage equipment, and the effect is stunning - colorful, spirited tunes that reflect their Motown roots.

Nehra says Bradley, who is blind, captivates people. "I wish he could see that, but he senses it."

Bradley says, "We want to get people to feel good. You can't be down all the time. Everyone has rainy days. That's life, and that's what we're talking about."

By Melissa Grego, Assistant Editor (http://www.umagazine.com)

COPYRIGHT NOTICE

Copyright 1996 by U. The National College Magazine. All rights reserved. Articles and photos from U. Magazine may be reproduced provided that the reproduction includes both this copyright statement and the article/photo in its entirety. However, articles, photos and other content on this web site may not be resold, repackaged or redistributed for compensation of any kind without the prior express written consent of U. Magazine and American Collegiate Network, Inc.
---
From: E-News Online - Concert Diaries (http://www.everybodys.org) (Seems to be lost!)
Back to Music
15 Minutes With Robert Bradley's Blackwater Surprise
by Billie Felix Jeyes
Three years ago, 46-year-old blind singer/songwriter Robert Bradley was sitting on the streets of Detroit, playing his guitar and singing. But tossed donations are the thing of the past for Bradley; he's currently on a US tour fronting a heavy blues and R & B based quartet called Robert Bradley's Blackwater Surprise, which recently released its first, self-titled CD on RCA Records.
"I used to drink Mad Dog 20/20, but now I get to drink Beaujolais," laughs Bradley, who first drew the attention of brothers Andrew and Michael Nehra and Jeff Fowlkes (all formerly of EMI recording group Second Self) when they were rehearsing in their studio. It was hard for them to concentrate because of the large gathering outside.
"Some days when it was going really good, I'd get 200, 300 people standing on a corner," says Bradley.
"There were tons of people there," says Andrew Nehra, 27. "It was like a farmers' market."
"We met on a corner. I was sitting drinking a bottle of wine and playing a guitar and they came up talking bullshit," laughs Bradley, "about how they were going to make a tape."
Over the course of three years, the newly formed quartet, along with keyboardist Jimmy Bones, did put a tape together, drawing heavily from the Detroit Motown and Stax pop traditions, but relying on Bradley's trademark on-the-spot improvisations.
"I'll just be walking down the street and somebody will say something to me," says Bradley of the creative process, "Then I'll go to rehearsal and they'll [the band] be playing-like 'Bellybone'" [the first song on the album, a rocking blues number that makes full use of Bradley's soulful, gritty voice].
Bradley received formal musical training at the state school for the blind, but he prefers a more spontaneous approach. "I learned how to write music, braille music," he says, "I hated doing it, but I can do it when push comes to shove."
Although Robert Bradley's Blackwater Surprise has a busy touring schedule, Nehra hopes to do some more recording soon.
"When we get a day off," says Nehra, "we're planning on going back into the studio. We pretty much have free rein. We have our own studio."
But the band loves to play live. "People want to see something live because they can see anything on video these days. They want live bodies. And we're gonna let our hair up and down," says Bradley.
---
(Last Edited 10/20/97)